TW: Rape, sexual assault, drug usage
Update, 6:06pm CT: The previous headline stated "Sexual misconduct allegations arise against members of Neverkept, Sleep On It" but we have updated it to "Dorian Cooke of Neverkept accused of sexual misconduct, Sleep On It members accused of inappropriate behavior"  to better reflect the allegations against Sleep On It.
Update, 7:19pm CT: Sleep On It's manager, Buck Foley, has reached out to Substream and provided the following statement:
"I don't want anyone to think I discredit any victim of sexual assault or abuse. I sympathize with them, stand with them, and my heart goes out to them. Yes, I work for Riot Fest, but that is completely separate from managing Sleep On It. Those two have nothing to do with the other. I very much split my manager and Riot Fest talent buyer brain. I understand there can potentially be a conflict of interest sometimes, and I avoid that conflict of interest at all costs. Sleep On It is my passion project, I love these guys with all of my heart. I also love Riot Fest, but it is my career and it pays the bills. Riot Fest, I have been working on for close to a decade and hope to for a decade more. Same with Sleep On It!
I hope that people can see that humans are flawed and that words are sometimes not chosen correctly. Sometimes people don't know the full story. Sometimes people aren't told the full story. We aren't perfect, none of us are perfect beings. For me as Sleep On It's manager, it all seems so surreal. And I really kind of feel like, to some degree, I wish the [victims] that we — or I — have relationships with would have come to me and told me the full story before I had to read it on Twitter. That hurts on a personal level.
I know my guys are good guys. You won't see that on Twitter right now. But if you dig deep, you look over the past couple of years, if you listen to their songs, it's abundantly clear.
I stand with and believe the victims. I am so sorry for anything that happened. I wish that I could take away their pain. I know a few people called me out directly which is why we're here. My apologies if it was misconstrued as coming from a place other than love. Some people just show you what they want and that's the Internet for you! 
All I can do, myself, is move forward, do better, and try to protect those who have been harmed in the future. Sleep On It and I will be more careful moving forward with who we take on the road with us. If this has taught us absolutely anything, it's that we've got to protect our people!"
Update, 8/27, 9:24am CT: Another victim reached out to Substream to make us aware of her story regarding emotional manipulation with Sleep On It's drummer, Luka Fischman. After we spoke with victim to ensure it was okay to share their allegations against Fischman in the article, we wanted to get it updated to reflect their story as well. The victim wanted us to share their story to let people know that you can heal from going through the things that she went through, and others have alleged as well. Below you will find her allegations.
TW : suicide + abandonment trauma

Stop supporting @SleepOnItBand.

I dated the drummer for over a year and a half—moved my life across the country because he asked me to.

This is my story of how my life almost ended the night he 'broke up' with me.https://t.co/ZSVyuIt74c

— Jessie Raye (@heyjessieraye) August 26, 2020
I found a draft of a text in my phone I sent Luka 3 weeks after he left. I wouldn't hear from him for weeks after (telling me to get my stuff out before he got back from tour) but I got to watch him play in LA and make a record with Sleep On It— pic.twitter.com/QvTG3KSmsE

— Jessie Raye (@heyjessieraye) August 27, 2020
Update, 8/27, 5:45pm CT: Fran has reached out to Substream with a statement and requested that we separate her allegations against Dorian Cooke of Neverkept from the allegations against Sleep On It. Read this update and her statement here.
Update, 9/4, 1:38pm CT: Sleep On It have announced their break-up and released an additional statement.
Original story: Yesterday, August 25th, sexual misconduct allegations against Dorian Cooke of Neverkept.
The allegations first surfaced via Twitter, in which user @frannzzy shared her story on her experience with Cooke, in which he raped, manipulated, and attempted to have her help cover up his actions. To ensure nothing gets left out of these allegations, or Substream does not misinterpret anything told, you can read the statements (and screenshots shared) directly from the victim themselves.
https://twitter.com/frannzzy/status/1298344904456900613
https://twitter.com/frannzzy/status/1298344917425631234
https://twitter.com/frannzzy/status/1298344983532052486?s=20
At this time, Cooke was in Broadside, who the victim mentions that she spoke to, to which they assured her he was no longer in the band — and she had asked them to not speak about her story. In her tweet, the victim also alleges that she informed Sleep On It of what had occurred, due to them being on the same tour.
A separate Twitter user also alleged that Cooke was abusive towards them, and they had made Sleep On It aware of this earlier this year:
Editor's note: when Substream reached out to the victim, they asked that we block out their username for privacy purposes.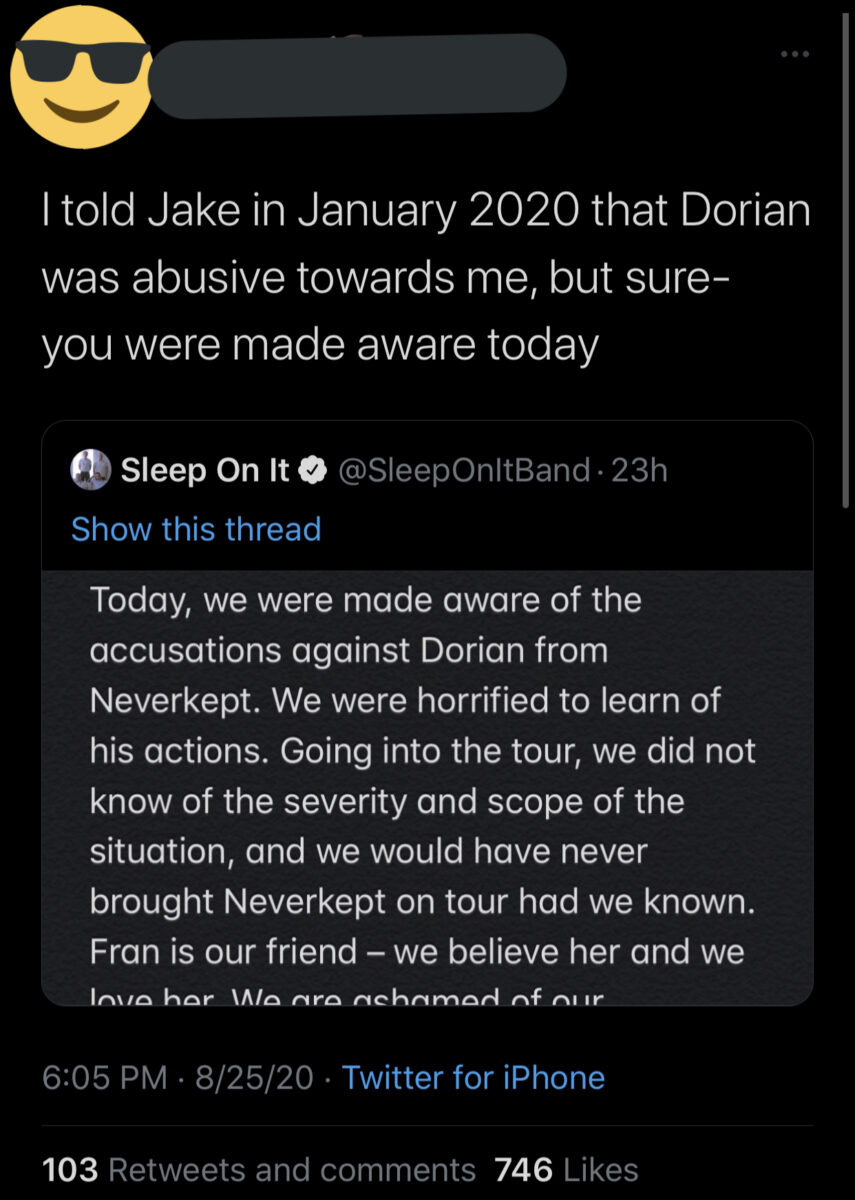 This allegations sparked a domino effect for Sleep On It, as they maintained their ties with Cooke — later adding his new band, Neverkept, to their headlining tour that was planned earlier this year.
This caused Sleep On It to post a statement explaining that they were just learning of the accusations yesterday, and never would have brought Neverkept on tour had they known:
https://twitter.com/SleepOnItBand/status/1298387645178023936?ref_src=twsrc%5Etfw%7Ctwcamp%5Etweetembed%7Ctwterm%5E1298387645178023936%7Ctwgr%5E&ref_url=https%3A%2F%2Fsubstreammagazine.com%2F2020%2F08%2Fsexual-misconduct-sleep-on-it-neverkept%2F
Prior to the tour, the victim had been living with former Sleep On It touring member, Zach Hir — which a different twitter user points out in reply to the above tweet.
https://twitter.com/frannzzy/status/1298394407746646016
This caused Sleep On It to make a follow-up tweet, explaining that while they knew of the allegations prior to bringing Neverkept out on tour, they "were unaware" of the severity, despite the victim alleging that members of Sleep On It knew everything beforehand.
https://twitter.com/SleepOnItBand/status/1298394477183238145?s=20
In a follow-up tweet, Sleep On It further apologizes, stating that they will be holding themselves more accountable moving forward. This caused a critical reaction of the band in the replies to their tweets and across Twitter, with many pointing out the hypocrisy in their statement, and expressing frustration in regards to how the members responded to the allegations in the first place and again yesterday.
Shortly after, different allegations began coming out against members of Sleep On It individually. The first one that Substream saw online was from vocalist Zech Pluister's ex girlfriend of two years, alleging that Pluister had mentally abused and gaslit her throughout their relationship. The victim also alleges that all members of Sleep On it knew, and actively covered up for him.
Regarding Zech Pluister of Sleep On It pic.twitter.com/esdg4Kl6g5

— miller white (@taysux) August 26, 2020
A different Twitter user quote replied to the above tweet, alleging that Sleep On It guitarist Jake Marquis had resorted to slut-shaming Pluister's victim right after the break-up.
and to think, Jake had nothing but slut-shaming slander to throw Taylor's way when i met him at an after-show dj set, right after she & Zech had split. i am sorry for not speaking up right then and there. repugnant and inexcusable behavior from vile, vile men. https://t.co/NGH1jzB8C3

— lila (@heytheredelilac) August 26, 2020
Additionally, further allegations surrounding Sleep On It and them covering up for friends and former bandmates. The twitter user below alleges that they made Sleep On It aware of their experience with Ryan Rizzo back in 2016.
Editor's note: when Substream reached out to the victim, they asked that we block out their username for privacy purposes. The next two screenshots are from the same user.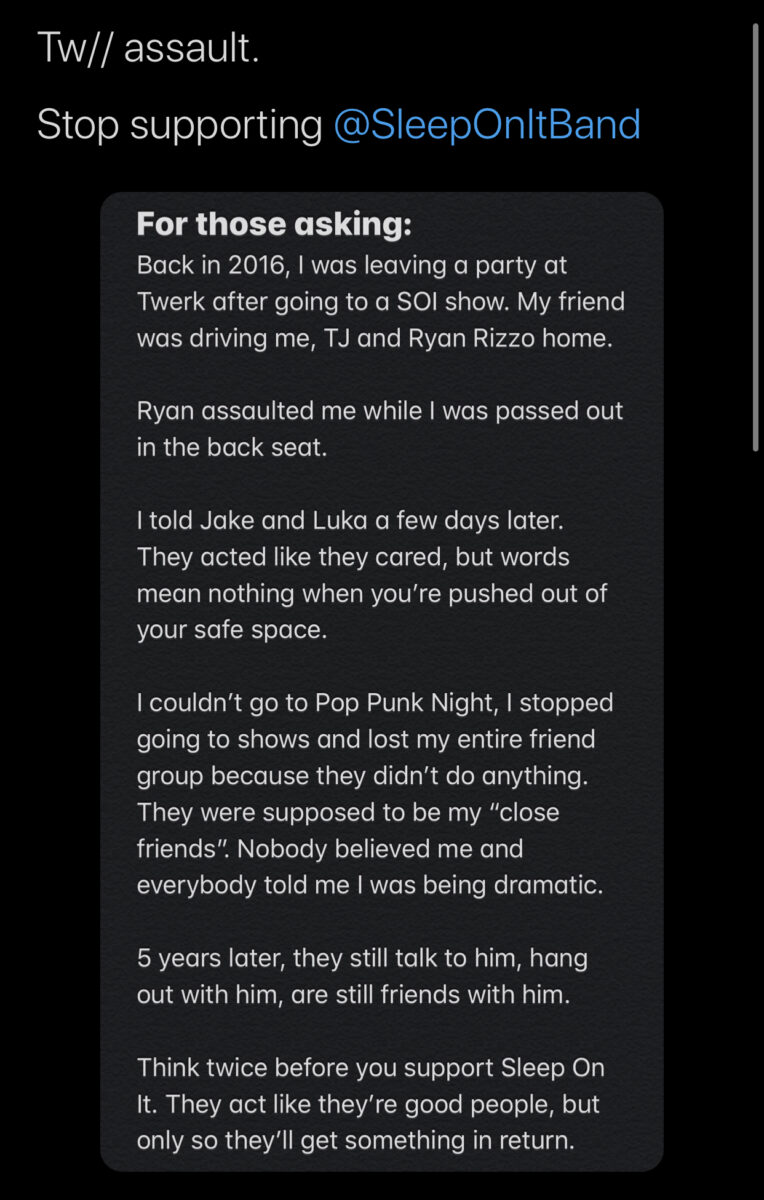 Additionally, two of the aforementioned victims have stated that Sleep On It's manger, Buck Foley (who also works for Riot Fest), has reached out to them to discuss the allegations.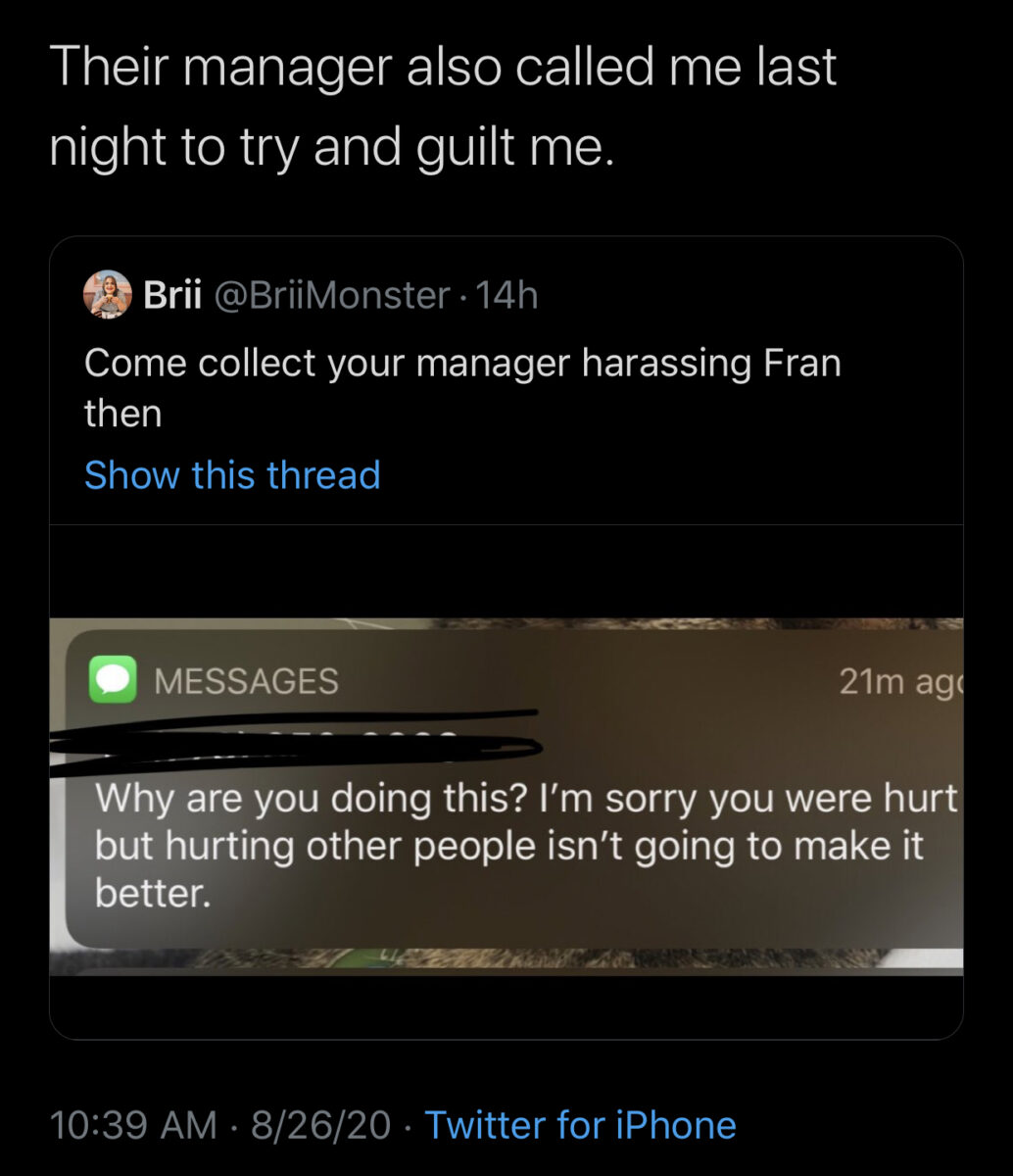 Come collect your manager harassing Fran then https://t.co/ioUEZY7w8l pic.twitter.com/lDNaUK3A5r

— O' Christmas Brii 🎄 (@BriiMonster) August 26, 2020
Substream has reached out to the publicists for Neverkept and Sleep On It, and at this time of publication, has not heard back from Neverkept's team, but did receive a reply from Sleep On It's publicist stating that the band have no comment at this time. Additionally, Substream has reached out to Buck Foley, but have not heard back from them either at time of publication.
Editor's note: Substream did reach out to all of the victims' who's tweets were used in this article and were given permission to use. If any victim wishes to have their tweets removed or wishes to have their names blocked out for privacy, Substream will fully cooperate as they wish.
While all mentioned parties are innocent until proven guilty in a court of law, Substream is electing to stand with victims and their allegations, demanding accountability and a safer music scene for everyone.