Substream has teamed up with singer-songwriter Rozzi, who's on the road this summer with OAR and American Authors, for an exclusive tour diary about her experience on the road. Life on the road means the thrill of getting to perform and share your music in front of thousands every night – but it also means a lot of downtime in between. Rozzi is sharing it all, from what it's like being on stage to all of the little things she finds in between.
Known for powerful, soulful vocals and heart-wrenchingly honest lyrics, Rozzi is currently promoting "Joshua Tree" from her debut album Bad Together. Listen to "Joshua Tree" while you check out the second week's installment of Rozzi's tour diary below!
Rozzi's tour diary from Week 1 can be found here.
I played Red Rocks!!! This was a total dream come true – the last big, bucket list venue I wanted to hit (now to play them all as a headliner ?). This is me a few hours before the show walking to the top of the seats. It was a windy, rainy day, suddenly beautiful for my set, with a temporary evacuation during American Authors' set due to lightning. I think the weather drama is part of the magic of Red Rocks – it's like the venue is a living thing with a mind of its own.
Post 2: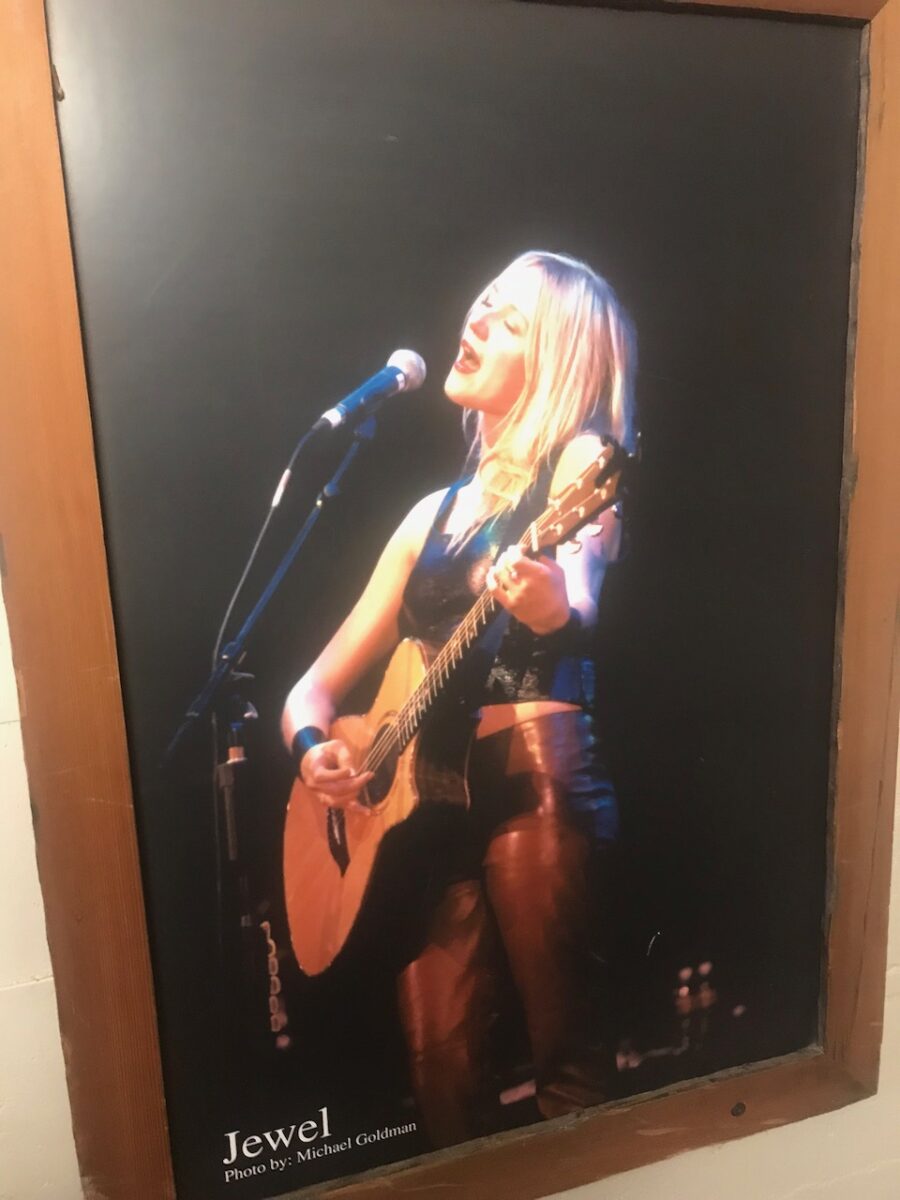 This is also from Red Rocks. The hallways are filled with photos of past shows – seems like every major artist on earth had a pic. I wanted to capture this one of Jewel because she is the first singer I loved. I sang her song "I'm Sensitive" in the first grade talent show and decided in that literal moment to be a professional singer. I remember preparing for the second grade talent show by handwriting all the lyrics to her song "Hands" over and over. I think she's wildly underrated as a vocalist – girl can SING.
Post 3: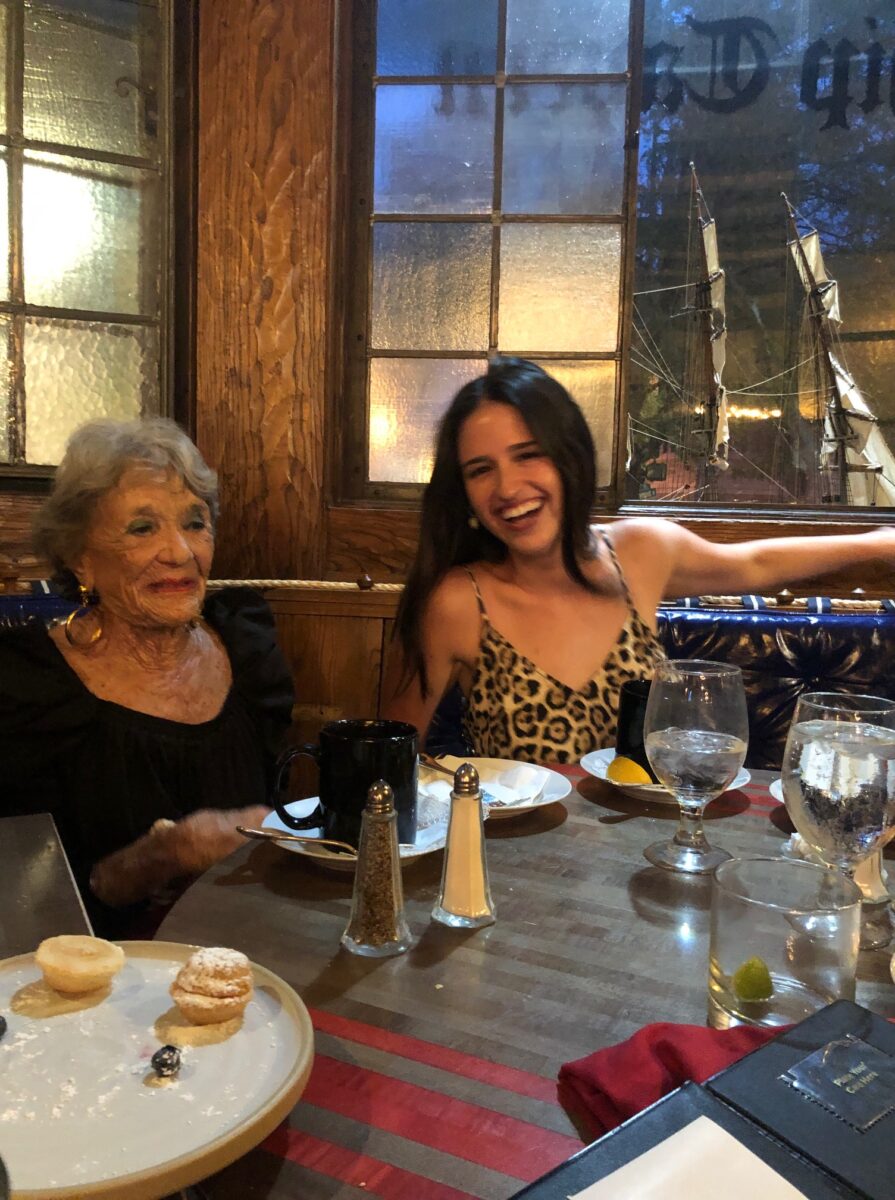 I got to see my nana this week. Nana (aka
@Spookypantz
on Instagram – so worth the follow. I'm serious) is a force. She's witty, quick, self-deprecating, legit athletic, and she'll be 95 in January. Everyone who meets her likes her and that's not an exaggeration. I swear I sell twice as much merch whenever Nana's around because people like me more as a result. When we hang out we mostly drink, eat popcorn, watch movies, and talk shit. I'm very lucky to have her!
Post 4: 
It was my girl Shannon Callihan's birthday this week. Shannon plays guitar and sings backgrounds for me on this tour and she's a dope artist on her own you should check out (@shannonlaurencallihan on Instagram). For her birthday we gave her a merch sweatshirt pictured above. The sweatshirt says "I'm an uphill battle" which is a reference to one of my songs and it's funny to see that on Shannon because she is arguably the most laid back person I've ever met. For her birthday we also got her lots of beer.
Post 5: 
It's always a cozy moment for me on tour when we get back to the west coast. I'm from San Francisco and my mom's family is from Oregon and Washington State, and I swear I can feel it when I'm there. It's like the air quality and the smell of the Pacific Ocean are linked to my DNA and it just makes me feel calm and at home, even if I'm in a city I don't know that well. This is a photo I took on a walk in Seattle when I was peak feeling that coziness.
Post 6:
On tour I'm also a tourist and on our days off we try to explore the city we're in. For me, this usually means a long walk/an investigation into the city's matcha situation. But sometimes we get more adventurous like we did in Seattle. This is me at the Museum Of Flight learning about the miracle of aviation!
Post 7:
Me in the back of one of our rental cars taking selfies ??. Today we're on our way from Los Angeles to San Diego and I brought a bag of snacks from Erewhon (the world's most amazing grocery store and down the street from my home in LA). We only have seven more shows and I'm excited to try some more new songs on everyone before I go home and finish the new music!
---