Anti-Flag is gearing up to release their new album, 20/20 Vision, on January 17th, 2020, and will be busy all year promoting the record.
They first released new music, "Christian Nationalist" and at the time it was just a standalone single, then ultimately Anti-Flag announced the new record and dropped the ferocious opening track, "Hate Conquers All."
Now, a little over a month before the record release, Anti-Flag have released the third single from 20/20 Vision, "Unbreakable." It's a more personal track for the band, specifically Justin Sane, who wrote the track during his late mother's battle with cancer. However, when it was brought to the rest of the band, some of that changed around a little bit.
"At the time I didn't realize I was writing a song about myself. It's a great example, I think, of music being an outlet for people to work through where they are in their lives. And when I brought the song into the band they tried to be really sensitive about that, and I think they could see some things about the song I couldn't see, so they were really sensitive about that. I think it could be a song that is a source of inspiration for a person who's dealing with the loss of a loved one or dealing with depression, or it could be inspirational for a movement and a group of people who are working together," Sane told Billboard. "It's just about the idea we are gonna run into a lot of adversity in life. Right now as a society we're in a place where, for a lot of people, things feel hopeless, but this song is just trying to be an inspiration for people to not give up."
Watch the brand new music video here.
Artwork: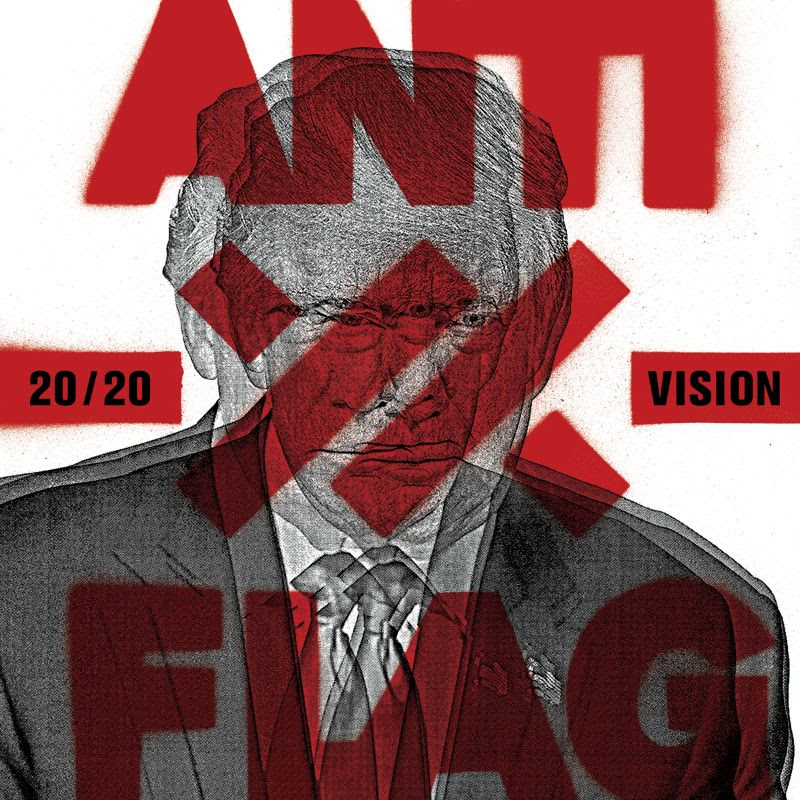 Track-Listing:
Hate Conquers All
It Went Off Like A Bomb
20/20 Vision
Christian Nationalist
Don't Let The Bastards Get You Down
Unbreakable
The Disease
A Nation Sleeps
You Make Me Sick
Un-American
Resistance Frequencies
Tour Dates:
12/19 Erie, PA @ Basement Transmissions
12/20 Chicago, IL @ Reggies
01/08 Lisboa, PT @ RCA Club
01/09 Madrid, ES @ Caracol
01/10 Vitoria, ES @ Kubik
01/11 Zaragoza, ES @ Sala López
01/12 Barcelona, ES @ Estraperlo
01/14 Milano, IT @ HT Factory
01/16 Zurich, CH @ Dynamo#
01/17 Graz, AT @ PPC#
01/18 Vienna, AT @ Flex#
01/19 Prague, CZ @ Roxy#
01/21 Berlin, DE @ SO36$
01/22 Munich, DE  @ Backstage Werk$
01/23 Nuremberg, DE @ Löwensaal$
01/24 Chemnitz, DE @ Talschock$
01/26 Warsaw, PL @ Proxima$
01/28 Hamburg, DE @ Fabrik$
01/29 Köln, DE  @ Essigfabrik$
01/30 Haarlem, NL @ Patronaat$
02/02 Brighton, UK @ Chalk!
02/04 London, UK @ O2 Academy Islington!
02/05 Manchester, UK @ Club Academy!
02/06 Birmingham, UK @ The Mill!
02/07 Glasgow, UK @ The Garage!
02/08 Leeds, UK @ The Key Club!
02/09 Cardiff, UK @ The Globe!
03/12 Montreal, QC @ L'Astral%
03/13 Burlington, VT @ Higher Ground*
03/15 Boston, MA @ Brighton Music Hall%
03/17 Asbury Park, NJ @ House of Independents%
03/18 Hamden, CT @ Space Ballroom*
03/19 Philadelphia, PA @ The Foundry%
03/20 College Park, MD @ MilkBoy ArtHouse*
03/22 Atlanta, GA @ The Masquerade @ Purgatory%
03/24 Nashville, TN @ Exit/In*
03/26 Cleveland, OH @ Grog Shop%
03/27 Buffalo, NY @ Rec Room*
03/28 Pittsburgh, PA @ Roxian Theatre*
05/03 Columbus, OH @ A&R Bar^
05/05 Toronto, ON @ Velvet Underground^
05/06 Grand Rapids, MI @ Pyramid Scheme^
05/08 St. Paul, MN @ Amsterdam Bar and Hall^
05/10 Denver, CO @ Bluebird Theatre^
05/12 Dallas, TX @ Dada^
05/13 Austin, TX @ Barracuda^
05/14 El Paso, TX @ Lowbrow Palace^
05/20 Oakland, CA @ New Parish^
05/21 Santa Cruz, CA @ The Atrium at The Catalyst^
05/27 Sacramento, CA @ Holy Diver^
05/28 Portland, OR @ Hawthorne Theatre^
05/29 Vancouver, BC @ Wise Hall^
05/30 Seattle, WA – The Crocodile^# w/ ZSK
$ w/ The Creepshow
! w/ The Creepshow and Maid of Ace
* w/ Grade 2 and Doll Skin
% w/ Grade 2
^ w/ Bad Cop/Bad Cop and Grumpster