Anti-Flag have never been one to shy away from expressing themselves, after all it's what has always made them such a unique punk band across their 20+ year career. From their older tracks like "Fuck Police Brutality" all the way up to 2017's "Racists," Anti-Flag has been consistently spreading their message of inclusivity and progression along the way.
Now, Anti-Flag have announced their newest record, 20/20 Vision, which will be out on January 17th via Spinefarm Records. It's a record that shows the band has plenty left to say, taking aim at the current chaotic state of the political landscape of the United States. You can pre-order the new record here.
To celebrate the announcement, Anti-Flag have released the high-energy opening track off 20/20 Vision, "Hate Conquers All."
Anti-Flag vocalist/bassist, Chris #2, provided further insight the new song and video, saying, "Love Trumps Hate. On the surface, this well packaged, well meaning sentiment does what it needs to… In the face of so much fear, inequality and despair, it provides hope. Hope that the path that we're on isn't an endless one, but one that can be defeated. And honestly I believe in the premise. That if you put love and positivity out into the universe it does combat negativity and it does come back or return, not always to us directly, but to someone. But the policies of Donald Trump and his administration are not just hateful. They're racist, islamaphobic, homophobic, transphobic, and bigoted. It is a false equivalency. The language exists for a reason. Our focus should not only be on their hatred, but their outward and unabashed fascism. We shouldn't just try to kill these things with love and kindness. We should be in the streets daily, demanding an end to racial, social, and economic injustice. The video for 'Hate Conquers All' is a visual experience of what a continuation of Trump policy and rhetoric holds. Climate devastation, racist/xenophobic immigration law and endless conflicts of interest serving his businesses and their partners. Watch the empire fall. Watch the nation dissolve. With our backs against the wall."
Anti-Flag have also just announced a full headlining tour of the U.S. set for spring of 2020, following an extensive tour covering the U.K. and Europe. Below you will find all of those tour dates from the band, as well as the artwork and track-listing for the new album.
Artwork: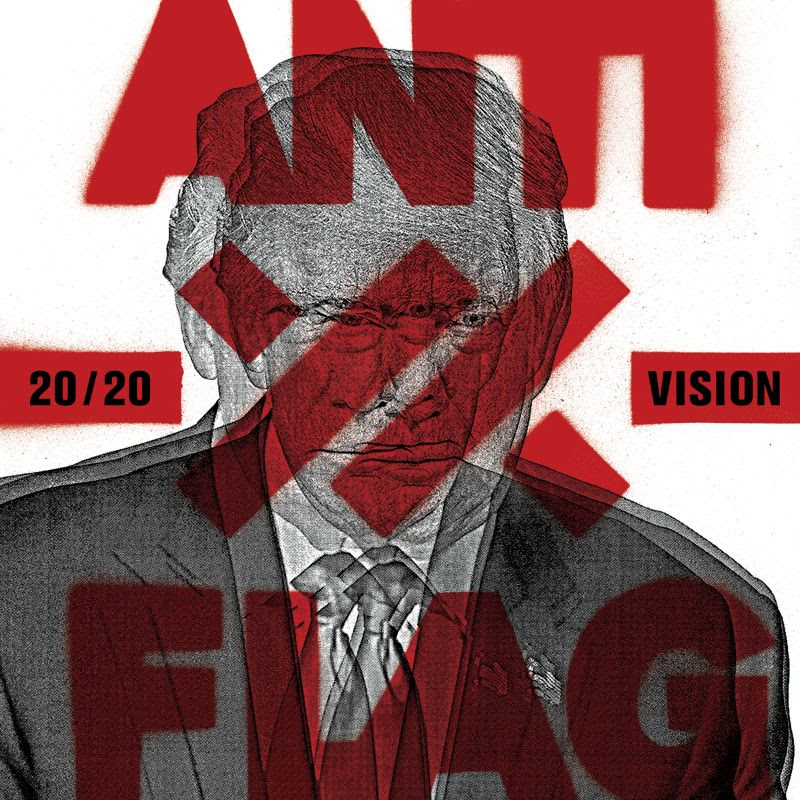 Track-listing:
Hate Conquers All
It Went Off Like A Bomb
20/20 Vision
Christian Nationalist
Don't Let The Bastards Get You Down
Unbreakable
The Disease
A Nation Sleeps
You Make Me Sick
Un-American
Resistance Frequencies
Tour Dates:
10/31 New York, NY @ Mercury Lounge SOLD OUT
11/08 Los Angeles, CA @ House Of Machines SOLD OUT
12/19 Erie, PA @ Basement Transmissions
12/20 Chicago, IL @ Reggies
01/08 Lisboa, PT @ RCA Club
01/09 Madrid, ES @ Caracol
01/10 Vitoria, ES @ Kubik
01/11 Zaragoza, ES @ Sala López
01/12 Barcelona, ES @ Estraperlo
01/14 Milano, IT @ HT Factory
01/16 Zurich, CH @ Dynamo#
01/17 Graz, AT @ PPC#
01/18 Vienna, AT @ Flex#
01/19 Prague, CZ @ Roxy#
01/21 Berlin, DE @ SO36$
01/22 Munich, DE  @ Backstage Werk$
01/23 Nuremberg, DE @ Löwensaal$
01/24 Chemnitz, DE @ Talschock$
01/26 Warsaw, PL @ Proxima$
01/28 Hamburg, DE @ Fabrik$
01/29 Köln, DE  @ Essigfabrik$
01/30 Haarlem, NL @ Patronaat$
02/02 Brighton, UK @ Chalk!
02/04 London, UK @ O2 Academy Islington!
02/05 Manchester, UK @ Club Academy!
02/06 Birmingham, UK @ The Mill!
02/07 Glasgow, UK @ The Garage!
02/08 Leeds, UK @ The Key Club!
02/09 Cardiff, UK @ The Globe!
03/12 Montreal, QC @ L'Astral%
03/13 Burlington, VT @ Higher Ground*
03/15 Boston, MA @ Brighton Music Hall%
03/17 Asbury Park, NJ @ House of Independents%
03/18 Hamden, CT @ Space Ballroom*
03/19 Philadelphia, PA @ The Foundry%
03/20 College Park, MD @ MilkBoy ArtHouse*
03/22 Atlanta, GA @ The Masquerade @ Purgatory%
03/24 Nashville, TN @ Exit/In*
03/26 Cleveland, OH @ Grog Shop%
03/27 Buffalo, NY @ Rec Room*
03/28 Pittsburgh, PA @ Roxian Theatre*
05/03 Columbus, OH @ A&R Bar^
05/05 Toronto, ON @ Velvet Underground^
05/06 Grand Rapids, MI @ Pyramid Scheme^
05/08 St. Paul, MN @ Amsterdam Bar and Hall^
05/10 Denver, CO @ Bluebird Theatre^
05/12 Dallas, TX @ Dada^
05/13 Austin, TX @ Barracuda^
05/14 El Paso, TX @ Lowbrow Palace^
05/20 Oakland, CA @ New Parish^
05/21 Santa Cruz, CA @ The Atrium at The Catalyst^
05/27 Sacramento, CA @ Holy Diver^
05/28 Portland, OR @ Hawthorne Theatre^
05/29 Vancouver, BC @ Wise Hall^
05/30 Seattle, WA – The Crocodile^# w/ ZSK
$ w/ The Creepshow
! w/ The Creepshow and Maid of Ace
* w/ Grade 2 and Doll Skin
% w/ Grade 2
^ w/ Bad Cop/Bad Cop and Grumpster