You never need an excuse to dress up in New York City, and such was the case on the evening of October 26th in East Williamsburg. Brooklyn Steel, the cold and industrial music venue was being turned into a golden age of Hollywood themed haunt to host pop singer Slayyyter's Club Valentine tour. Joining the Los Angeles based artist was hyper pop superstar Miss Madeline and R&B singer BAYLI.
As attendees poured in donning skimpy outfits, lace, latex and leather galore, the party wasted no time getting started. Miss Madeline took to the stage to kick things off and served the crowd with a high energy performance of her hyper-pop hits.
Next, BAYLI graced the stage for a hometown performance. Wearing a fuzzy pink hooded two-piece set with matching leg warmers and situated between two white curtains to stage left, BAYLI began her set. Her slower, soulful music was a welcomed change of pace for the crowd to catch their breath. Over her 30 minute set time, BAYLI covered a range of hits including "TELLY BAG", "think of drugs" and ending with her hit single "sushi for breakfast".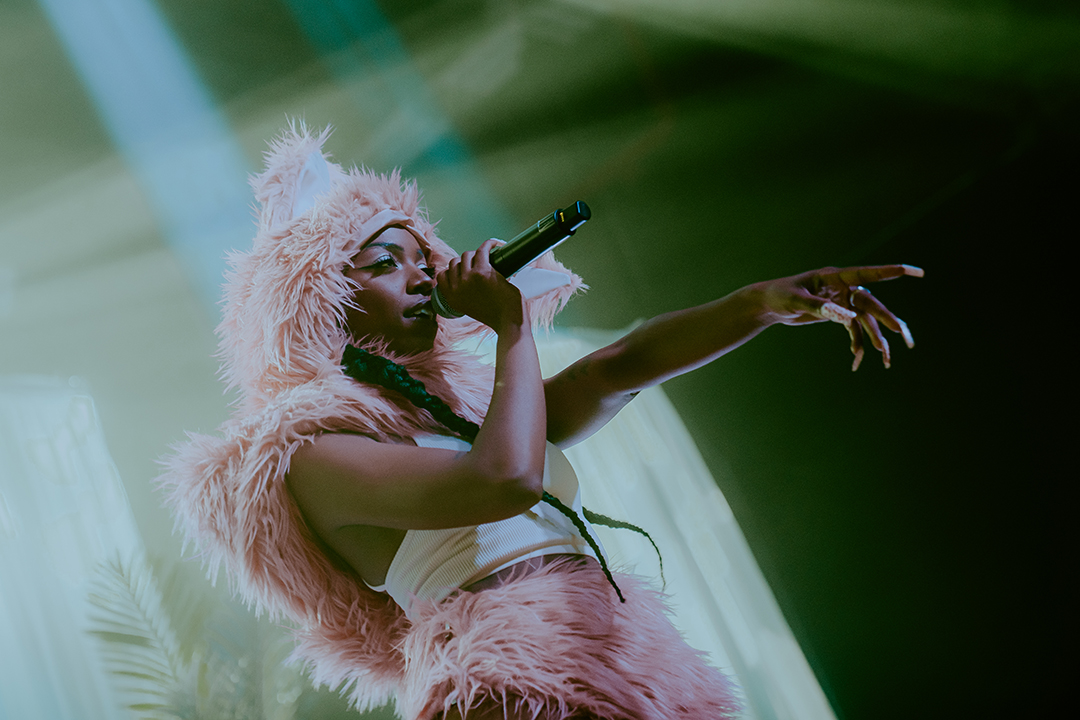 It was clear that many people in the crowd were introduced to Miss Madeline and BAYLI for the first time that evening, but had certainly become fans after their performances. However, the attention began to shift towards the main event: Slayyyter. The stage was draped with white curtains, the floor covered in a fuzzy white rug with art deco themed furniture and props across the stage. The vibe for the evening was giving a mid century modern nod to Hollywood… very much Slayyyter's brand.
Just before 10pm, the lights throughout the venue went dark and a countdown flashed on the white curtain in center stage. The crowd began screaming down the seconds until the show began, and the anticipation was about to pop when Slayyyter bursted onto the stage and immediately ripped into her hit single "Out Of Time".
Slayyyter, who was embarking on the Club Valentine tour after releasing her third studio album STARFUCKER, gave her fans a performance that truly brought the album to life. Themes of old Hollywood, partying, drugs and having fun run rampant throughout the albums lyricism and her stage presence that night was no different. Chock full of outfit changes, latex, leather and harnesses Slayyyter's hour and a half long set ranged across her discography playing nearly every song from STARFUCKER as well as smash hits "Troubled Paradise" and "Clouds".
Slayyyter ended her set with the hyper-pop anthem "Daddy AF" and slipped backstage for a breather before her three song encore finale. She concluded her set with the house-music inspired song "Mine" before graciously thanking the crowd for their energy and support and returning backstage.
Slayyyter is truly no different than the stars idolized within the themes of her brand and her music. A superstar ready to burst at any moment, Slayyyter put on a high energy performance and showcased her vocal talent in a breadth of new songs never heard live before. When the world around us can be so heavy, it was a true treat to be able to enter Club Valentine, forget about everything even if for a moment and just enjoy the party with my fellow Slayyyter fans.
Miss Madeline
BAYLI
Slayyyter