Trinity of Terror
Friday November 18, 2022
MVP Arena;  Albany, NY
Well, before I get started, a moment of silence for all of my Saturday When We Were Young people out there. We, uh, yeah… We got put through the wringer on that one, huh.
I hope you're at the very least close to being over it and have gone to something since then and your refunds got to you quickly (I got mine and used it on Taylor Swift tickets, which went just as swimmingly and painless and calmly. Zero problems whatsoever.)
There IS a reason to mention WWWY, though, and not just because it's something to be upset about for the rest of my life and a little while after that. As great as things went tonight, my previous experiences with all four of these bands (not counting the festival) were in one way or another less than ideal.
Ranked, from least to worst, they are as follow:
The last time I saw Black Veil Brides, it was at the Big Gig in Worcester and their photo pit was closed. 3/10, slight bummer.
The last time I was supposed to see Atreyu was at the Atlantic City Warped Tour farewell but got caught up in the line outside. Also bummer, but still managed to rebound.
The last time I saw Motionless in White was at Furnace Fest down in Birmingham, Alabama and my partner twisted an ankle in Taking Back Sunday's pit. Understandably bigger bummer.
And lastly, my most recent Ice Nine Kills show was this past August. I drove the five or so hours over to Buffalo to see them open for Metallica but I had to see Greta Van Fleet in between. I'd pick the twisted ankle. 
And, of course, had tickets to see all four along with literally every other band ever before the wind blew that opportunity into oblivion. (It was the correct decision, by the way. No doubt about it. And the way some of the artists were able to rebound was nothing short of spectacular. Saw Bring Me the Horizon and Knocked Loose at a 2,000-cap theater; yeah, missing the festival sucked, but a once-in-a-lifetime show like that is a hell of a Plan B.) 
But alas, here we are again.
Back to business. Let's do this thing for real.
Back at MVP Arena, I was home for what would be one of the biggest shows I've done since … the last time I was here for the biggest show I've ever done.
Seasoned vets Atreyu started the night off as clean as could be, with every i dotted and t crossed, With two decades and nearing a dozen albums under their belt, you could feel how many times the group had done this before. Early highlights from "Baptize" and "Becoming the Bull" started things off on the right foot, with "Ex's and Oh's" and "Save Us" finding them hitting their peak. They mentioned being "hands down the heaviest, hardest band you're gonna see tonight," which they lived up to immediately by jumping into a quick partial cover of "I Wanna Dance With Somebody" with Mario Kart streaming on their backdrop.
Funnily enough, going into this tour I was under the impression that Ice Nine Kills were the headliner. That might be because, of the three, INK are the only one I follow across social media profiles, so that coulddd be why I saw them advertising it more than the other two. So I was admittedly surprised when I was getting everything put together and saw them in the second spot of the night. Maybe they alternate and rotate, I would assume at the very least for their annual "Thanks-Killing" show the previous night in Lowell, but it wasn't the case for at least tonight.
With that said, they put every ounce of blood and sweat, emphasis on blood, into this that they did for every other headline set [fun note: my keyboard autocorrected this to "deadline" at first, which felt almost too perfect] that I've seen them play.
Opening on "Funeral Derangements" kicked things into high gear right out of the gate, diving directly into the newly added "Wurst Vacation," one of the few heavier choices they could move to next. "IT is the End" showed up much earlier than I was used to seeing it, and closing with "Opening Night…"/"Welcome to Horrorwood"  rather than "The American Nightmare" (played second to last) was a full flip from their last go around.
With Every Trick in the Book going unrepresented here, the two chapters of The Silver Scream made up the entirety of the setlist, which was a bit of a letdown; trimming "Communion of the Cursed" was probably no easy choice, but cuts have to be made for shorter sets. Mentioned it last time, had to mention it this time too – STILL waiting for "The Box" to make its debut. Maybe Trinity of Terror IV. Even without it being the ideal setlist, the performance itself was the best I've seen from them yet.
I'll admit, mentioning Motionless' set from Furnace Fest before was partially for the joke, but it does come into play here. It may have been because they were subbed in after the initial lineup announcement or it may just have been what their setup was at the time, but for that weekend their stage was packed side to side with huge metal fans (as was their crowd, ba-dum tsst) and flooded with bright backlight.
This tour was NOT that setup.
"Disguise" didn't feature anything too wild to start off. Barely midway through follow-up "Sign of Life," however, we realized we were in for something different. As the first chorus hit, two women in skin-tight bodysuits walked onto each side of the stage, donning handheld grinder tools and adorned with metal plates across their midsections. Throughout the song, they'd grind their belts and sparks would fly across the stage.
"Slaughterhouse" ripped the seats from their bolts, and "Dead as Fuck" was a creepshow circus act complete with undead stilt walkers and graveyard trick-or-treating. I'm doubting this was the graveyard smash that they're singing about in "The Monster Mash," but you never know.

While the Albany show was taking place, Western/Central New York and parts of Canada were getting buried beneath feet and feet snow. With that, Chris had mentioned that the following night's show had already been canceled for travel risk. "It sucks to have to cancel a show," he continued, "but we're here with you for now, and you guys have been enough for ten shows."
Their version of The Killers' "Somebody Told Me" translates to the live show without missing a beat, taking a cover song and turning it into a cornerstone. Closer "Eternally Yours" finished strong, welcoming the stilt walkers back to the stage, dressed in flowing black funeral gowns and throwing roses to the crowd.
As impressive and strong as every act was up to this point, Black Veil Brides finished the night as the clear headliner. Even with the longest merch lines I had ever seen, wrapping almost around the entire upper concourse, the floor was packed to the front with eager fans with plenty more waiting in the seats.
From their first steps onto the stage, the five-piece drew full focus and command of the crowd. With the first notes of "Crimson Skies," screams pierced the air and the band returned the affection with smiles and devil horns.
Whether you want to call it glam, metal, screamo, just standard rock & roll, any combination of them along with anything in between, Black Veil Brides do it their own way and they do it well.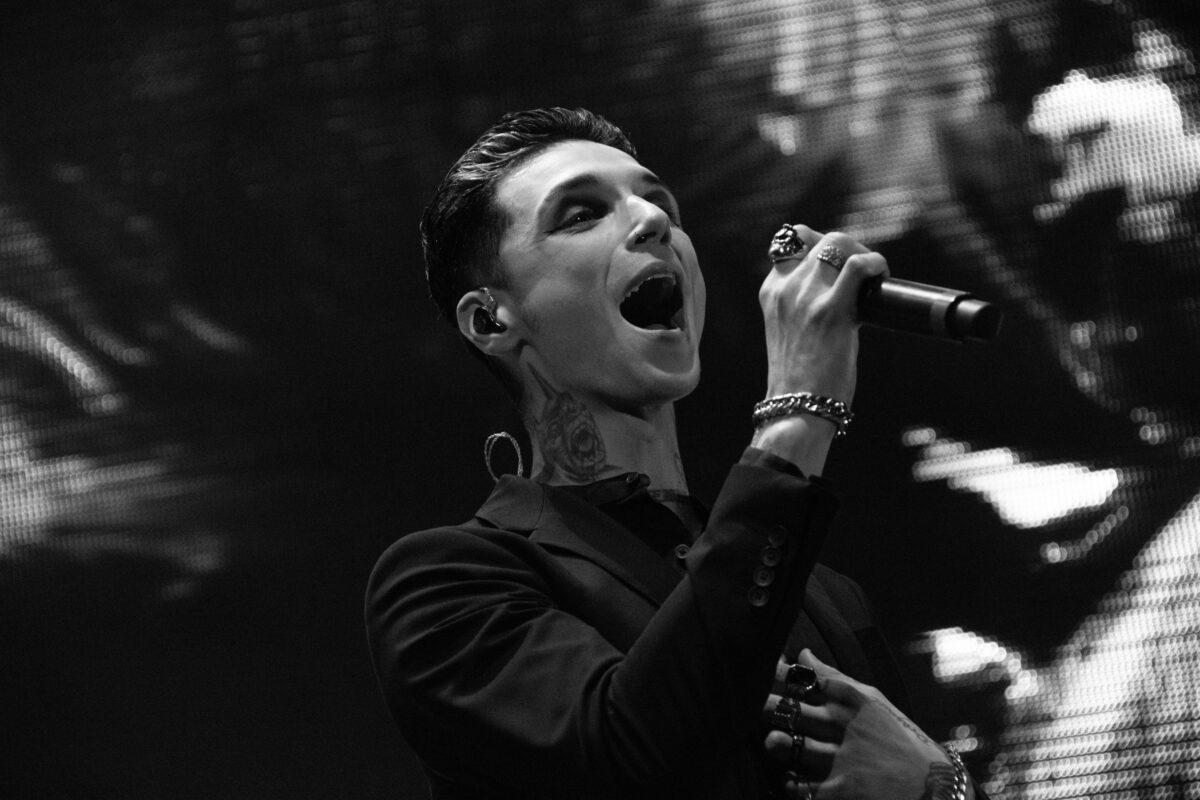 Where Atreyu were more your "standard" metal set, followed by Ice Nine Kills' horror show and Motionless in White's feral factory freakshow, Black Veil Brides closed out with a set that was as operatic as it was post-apocalyptic.
After three rounds of the tour, it's clear that these three are at the front of the class in the genre.
A triple threat rotation of one powerhouse after the next, Trinity of Terror is a trilogy of triumphs from start to finish. 
Remaining Trinity of Terror dates:
11/29 – Corbin, KY
11/30 – Nashville, TN
12/2 – Dallas, TX
12/3 – San Antonio, TX
12/5 – Rio Rancho, NM
12/6 – Tucson, AZ
12/7 – Inglewood, CA
12/8 – San Diego, CA
12/11 – Portland, OR
12/12 – Seattle, WA
Ice Nine Kills:
Funeral Derangements
Wurst Vacation
Hip to Be Scared
IT Is the End
Ex-Mørtis
Stabbing in the Dark
A Grave Mistake
The Shower Scene
Farewell II Flesh
The American Nightmare
Opening Night… / Welcome to Horrorwood
Motionless in White
Disguise
Sign of Life
Slaughterhouse
Werewolf
Voices
Cyberhex
Masterpiece
Dead as Fuck
Another Life
Somebody Told Me
Eternally Yours
Black Veil Brides:
Crimson Skies
Coffin
Faithless
Devil
Shadows Rise
Scarlet Cross
We Stitch These Wounds
Knives and Pens
The Legacy
Fallen Angels
In the End