Today, critically-acclaimed Vermont singer/songwriter Noah Kahan has just announced his new mental health initiative, The Busyhead Project.
Sharing it's name with Kahan's 2019 debut album, Busyhead, The Busyhead Project will join forces with a handful of national and local organizations dedicated to increasing mental health awareness, amplify discussions, and democratize resources.
The first goal for Kahan and The Busyhead Project is to raise "$1 million for mental health," with Kahan set to donate a portion of every ticket sold on his upcoming "Stick Season" tour. Already over $325,000 has been raised for this initiative.
Kahan says, "When I was a kid, I didn't know what was wrong with me. I had all these dark thoughts and dark feelings and felt alone and scared of my brain all the time. I had an understanding family and friends and a supportive community, but I felt afraid to talk about what I was going through because I was scared I would sound crazy. Some of the only times I felt connected to anyone was through music. I'd hear a song that felt like its lyrics were ripped straight from my heart and my experience, and for 3 or 4 minutes I felt less alone and less afraid. As I began to make music, I made an effort to write lyrics about how I was feeling, in the hopes that maybe someone out there would feel less alone when they listened to it, like I did growing up. As a non-college educated professional musician, this felt like all I could do: to try to make people feel heard and understood and less uncomfortable in their own brains. I never felt equipped to endeavor anything beyond just writing songs."
He continues, "This year, my team and I started talking about how we could push the effort further. We wanted to find a bigger way to reduce stigma and provide resources to people struggling with their mental health. My incredible management team and many other wonderful partners and I got together to create an initiative, with the goal to raise a million dollars for organizations specializing in mental health awareness and resources. I've been given so many wonderful opportunities in my career, and it really is all for nothing if I don't try and give back to the community that has supported me. If I can help anyone get through their struggles, it will be the proudest achievement of my career. So, I present to you: The Busyhead Project."
The Busyhead Project will direct donations and actions to benefit organizations  Bring Change to Mind, Jack.org, Oasis Center, Project Venture, Rural Behavioral Health Institute, and Upper Valley Haven. These partners were hand picked by Kahan due to their commitment to mental health awareness, with an emphasis on local impact by providing access to resources. Additionally, on the road, The Busyhead Project will also spotlight local organizations who have positively impacted their individual communities at each show, making a donation and providing a space at the venue for the respective organization.
Next up, The Busyhead Project will launch a Propeller website as its online hub. Boasting unparalleled visibility, fans may view the total amount of money raised and pledge their own donations from the site.In addition, Dunkin' is joining forces with Kahan for a summer-long partnership that will debut in Dunkin's hometown of Boston, MA at the Boston Calling Music Festival on May 26th through May 28th. Through this partnership, Dunkin' is honored to champion The Busyhead Project and has committed a donation to kick off the initiative.
All summer and fall long Kahan will be on the road, with his upcoming release Stick Season (We'll All Be Here Forever) due out on June 9th via Mercury/Republic Records.
Stick Season (We'll All Be Here Forever) Artwork: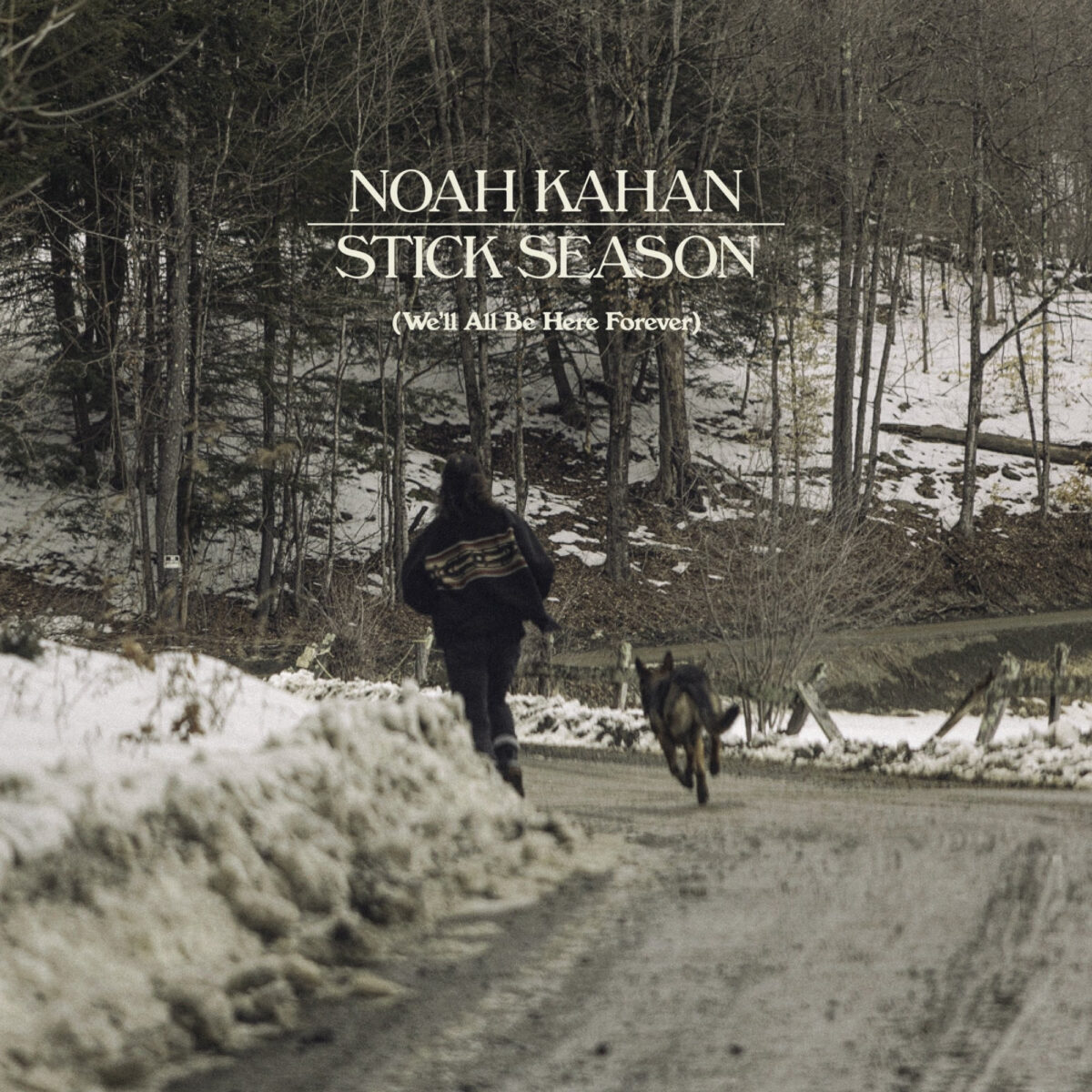 Stick Season (We'll All Be Here Forever) Track-listing:
"Northern Attitude"
"Stick Season"
"All My Love"
"She Calls Me Back"
"Come Over"
"New Perspective"
"Everywhere, Everything"
"Orange Juice"
"Strawberry Wine"
"Growing Sideways"
"Halloween"
"Homesick"
"Still"
"The View Between Villages"
"Your Needs, My Needs"
"Dial Drunk"
"Paul Revere"
"No Complaints"
"Call Your Mom"
"You're Gonna Go Far"
"The View Between Villages (Extended)"
Tour dates:
May 26                        Lewiston, NY              ARTPARK Amphitheater^
May 27                        Boston, MA                 Boston Calling
May 30                        Albany, NY                 Palace Theatre^
June 1                         Montreal, QC              MTELUS^
June 2                         Montreal, QC              MTELUS^
June 3                         Lafayette, NY              Beak & Skiff Orchards
June 6                         Pittsburgh, PA            Stage AE
June 7                         New York, NY             Radio City Music Hall^
June 9                         Columbia, MD             Merriweather Post Pavilion^
June 10                       Philadelphia, PA         The Mann Center^
June 11                       Charlottesville, VA      Ting Pavilion^
June 13                       Charlotte, NC              Sky Credit Union Amphitheater^
June 14                       Raleigh, NC                Red Hat Amphitheater^
June 16                       Manchester, TN          Bonnaroo
June 17                       Atlanta, GA                 Cadence Bank Amphitheatre at Chastain Park #
June 18                       Charleston, SC           Firefly Distillery #
June 20                       Asheville, NC              Rabbit Rabbit^
June 22                       Cleveland, OH            Jacobs Pavilion @ Nautica^
June 23                       Cincinnati, OH            The ICON Festival Stage at Smale Park^
June 24                       Milwaukee, WI            Summerfest
July 25                        Dillon, CO                   Dillon Amphitheater
July 26                        Morrison, CO              Red Rocks Amphitheatre*
July 28                        Newport, RI                 Newport Folk Festival
July 29                        Burlington, VT             Waterfront Park^
July 30                        Burlington, VT             Waterfront Park^
August 3                      Chicago, IL                 Lollapalooza
August 5                      Saint Charles, IA         Hinterland Music Festival
August 8                     Phoenix, AZ                Arizona Financial Theatre^
August 9                     San Diego, CA            Cal Coast Credit Union Amphitheater^
August 11                   Los Angeles, CA         The Greek Theatre^
August 13                    San Francisco, CA     Outside Lands Music Festival
August 15                   Redmond, WA            Marymoor Park^
August 16                   Vancouver, BC           Doug Mitchell Thunderbird Sports Centre^
August 18                   Spokane, WA             Pavilion at the Riverfront^
August 19                   Bend, OR                    Hayden Homes Amphitheater^
August 20                    Palmer, AK                 Alaska State Fair
August 26-27              Richmond, VA             Iron Blossom Music Festival
August 31                   New York, NY             Radio City Music Hall #
September 1               Syracuse, NY             St. Joseph's Health Amphitheater at Lakeview #
September 2               Saratoga Springs, NY Saratoga Performing Arts Center #
September 5               Bridgeport, CT            Hartford HealthCare Amphitheater #
September 6               Gilford, NH                  Bank of New Hampshire Pavilion #
September 7               Gilford, NH                  Bank of New Hampshire Pavilion #
September 9               Mansfield, MA             Xfinity Center #
September 12             Columbus, OH            KEMBA Live! #
September 13             St. Louis, MO              Saint Louis Music Park #
September 15             Indianapolis, IN           TCU Amphitheater @ White River State Park #
September 16             Detroit, MI                   Michigan Lottery Amphitheatre @ Freedom Hill #
September 17             Toronto, ON                Budweiser Stage #
September 30             Ocean City, MD          Ocean's Calling
October                       Austin, TX                   Austin City Limits Music Festival
^ with Joy Oladokun
# with Ruston Kelly
* with Briston Maroney