This year sure has shaped up to be the year of reunions with bands as far and wide as The Jonas Brothers, The Spice Girls and Bombay Bicycle Club all putting out new music or performing together for the first time in years. Following in that trend is Canada's own master of solemn acoustic tunes, City and Colour. The recording alias of Dallas Green, City and Colour put out their first record in four years, A Pill For Loneliness, earlier this month on October 4. Following the album's release, Green embarked on a full band North America tour, which concluded last week with the final two shows here in New York City.
I arrived for the first New York City show, on October 24, at the historical and newly renovated Webster Hall, in the booming Union Square neighborhood of Manhattan. The sold out show was set to commence at 8pm on the dot with fellow Canadian musician, Ruby Waters. Before her performance I had never heard of her or her music and therefore, went in with a clean slate and no standards. To say I was blown away by the powerhouse voice that came out of Ruby when she started her performance would be a vast understatement. With just her and an accompanist playing guitar and keys, Ruby shocked the crowd as cheers and claps from throughout the venue would erupt as she belted the high notes of her hit "Sweet Sublime." Ruby Waters created a name for herself within the venue that evening and captivated the audience for her brief but killer thirty minute set.
Besides being known as one of the founders of the iconic hardcore band, Alexisonfire (which also recently reunited), Dallas Green began making solo acoustic music under the moniker of City and Colour in 2005. Over the course of the decade and a half since City and Colour's first record, Green has grown fans far and wide with his vulnerable and poignant lyricism about love, life and loss.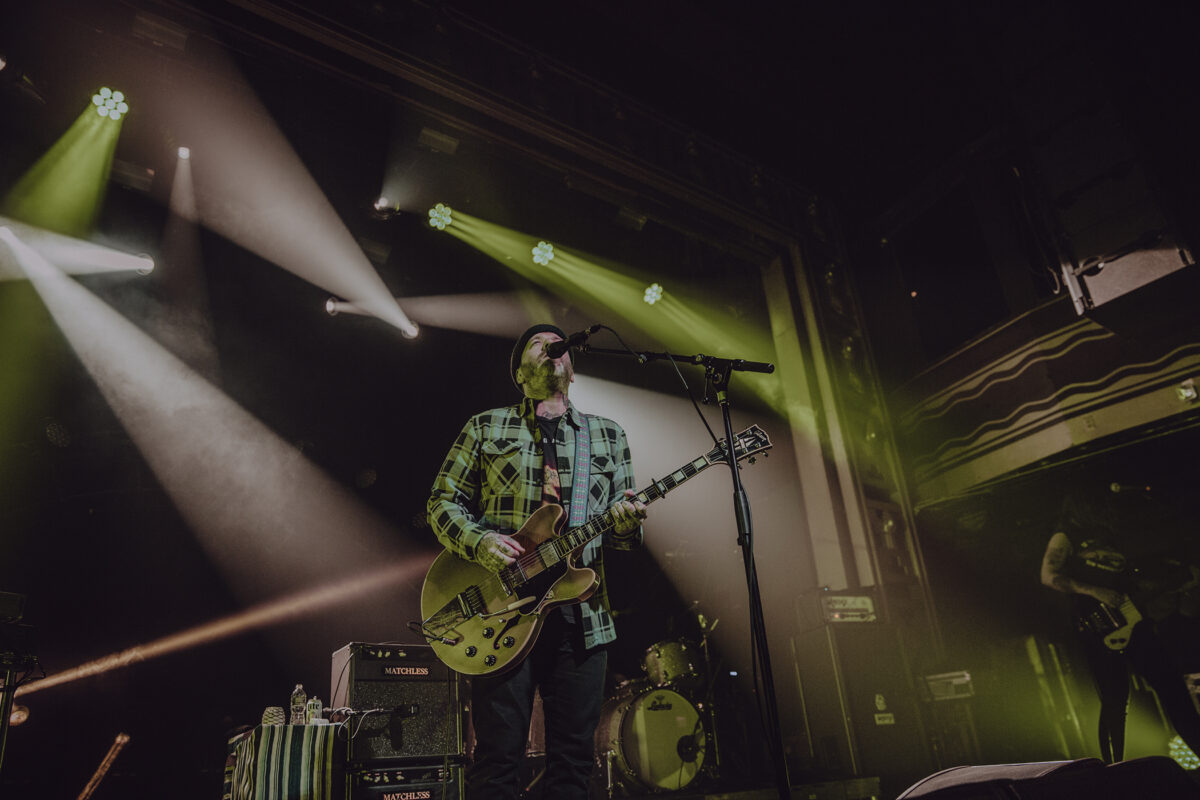 The full band graced the stage right on time and City and Colour broke into their opening song of the evening, "Astronaut." Green stood, rather shyly, behind the microphone, donning a beautiful guitar and sang the lyrics so perfectly it sent chills up my spine. Colorful lights rotated behind the band, with a semicircle shaped lighting rig emitting beautiful star shaped lights to compliment the individuals on stage.
After leaving the photo pit, I spent the remainder of the show atop the balcony, standing center stage. There was something inside Webster Hall that evening that was pure bliss. Every single person inside the venue was there for the same reason, enjoying the same songs being serenaded by Green's unique and soothing voice. The setlist for the hefty hour and a half long performance was quite strong, featuring songs for a variety of fans both new and old. Green took some moments throughout the show to perform solo, where he sang "Sensible Heart" and the crowd favorite, "The Girl" before transitioning into the encore which featured "Living", "We Found Each Other In The Dark" and "Sleeping Sickness."
As a fan of City and Colour since I was a young age, it has been a real treat to get to grow up with Green and see his advancement on each record he releases. A Pill For Loneliness and his recent New York City performances successfully showcased Green's extreme talents and I cannot wait to see him return to New York soon! 
Ruby Waters
City and Colour