The marquee at Webster Hall reads "Every Nite Is Emo Nite" in huge block letters, and the line of mid 20-something's, clad in outfits that would make their MySpace-era selves very proud, snakes around the block. L.A. based emo tycoons have come to NYC to show us what we've been missing out on by not getting to partake in their monthly club event. Every month, Emo Nite takes over three rooms of a venue in L.A., where they have guest DJ sets, full band performances, and acoustic song breaks from the lead singer of your 15-year-old self's favorite band.
My evening starts in the basement level of Webster Hall, the Studio it's called, with a local band called EXIT. EXIT play the pop rock music of yesterday. They're the perfect answer for the teens of today's want for new music that sounds like the bands they weren't around to go see when they were playing venues of this size. While the band is still new, and a rocking DJ set is on upstairs in the Grand Ballroom, the Studio is pretty busy. Emo Nite themed balloons line the ceiling and at least half the capacity of the room is filled with people rocking out to the tunes of EXIT. When the band finish their set, the whole room is super pumped up for the night ahead of them.
Emo Nite starts at 9 PM, but it goes until 2 AM so the crowd has a long night of drinking and nostalgia ahead of them. The next live act up is a singer/songwriter whose stage name is pronoun. As I leave the studio to catch Ben Jorgensen from Armor for Sleep's DJ set, I can't help but notice how beautiful of a singer pronoun is. Back upstairs in the Grand Ballroom, the songs of yesterday are being played through the loudspeakers. Throughout the night, the frontmen of emo past and present are taking the stage and bringing the songs of yesterday and today to our ears. Bradley Walden of Emarosa, Machine Gun Kelly, Craig Owens of Chiodos/badXchannels, and Will Pugh of Cartel had some of the best DJ sets of the night. Walden even played my personal favorite song, "Planning a Prison Break" by Receiving End of Sirens.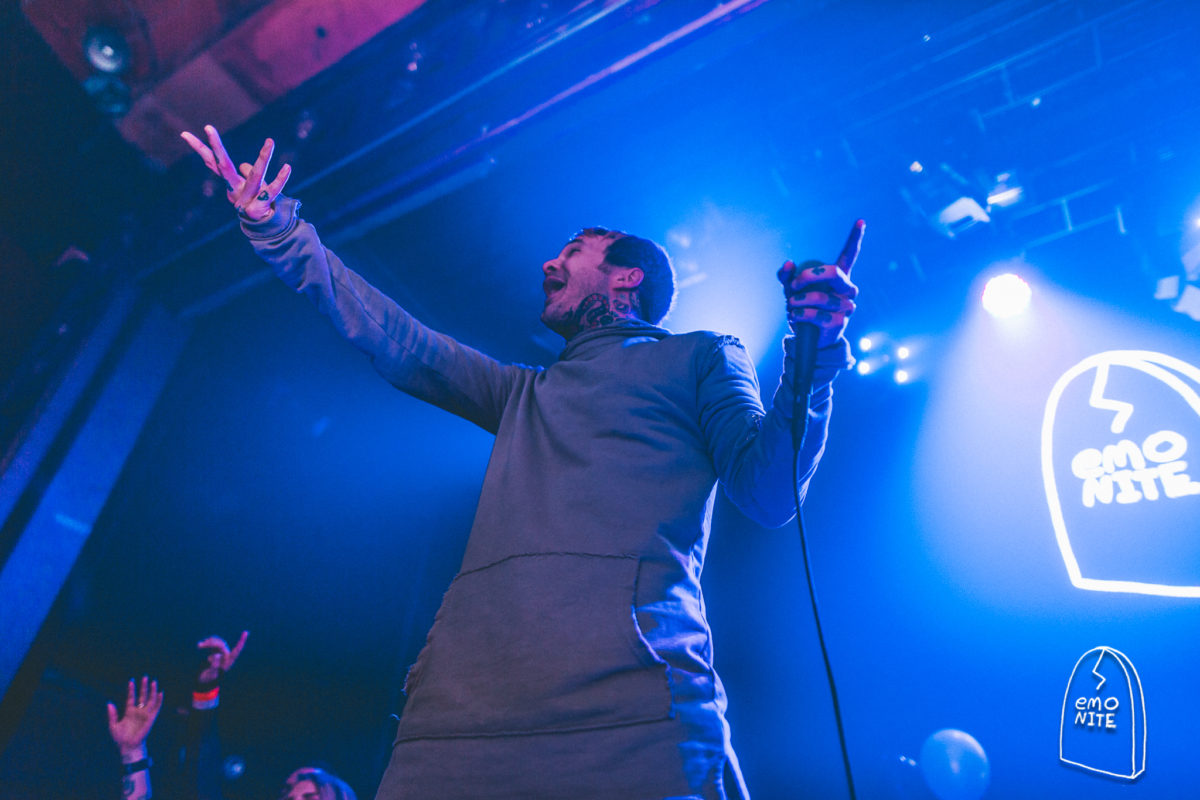 The Grand Ballroom was packed all night, and fans even got to join their favorite artists on stage during their DJ sets. When the few acoustic acts would occur, the fans were ushered off stage as to not detract from the singer and their guitar. A high point of the night was when Nick Thomas of The Spill Canvas did a short acoustic set in the Grand Ballroom right before Machine Gun Kelly took over the stage. Every artist's DJ set was killer, and pop princess Halsey even joined MGK on stage during his set to help him pick through songs.
Will Pugh of Cartel is the last DJ set I manage to see for the night, and he really rounded out the evening. Every single song he chose was a banger from my past, and he even started the set out with his own band's song, "Say Anything." The set only got better from there, with Pugh playing songs by Fall Out Boy, My Chemical Romance and even All Time Low, and then closing his set on a high note of Blink-182. The night was an all around success and I truly hope Emo Nite LA comes back to NYC soon.
Substream got to talk to a few of the guest DJs throughout the night, and find out what performing at Emo Nite really meant to them. Owens has been guest DJing at Emo Nite LA since they started, and he's really passionate about what the event founders have created together.
"When I heard they were doing Emo Nite in NYC, I was like 'get me on a flight there now, because I have to DJ for an event like that,'" he tells me. "To me, Emo Nite is a celebration of a culture that band members and fans really need."
Hearing what a few of the artists involved in the night feel about it really opens my eyes to a whole other side to Emo Nite. I know why fans go, because I myself am a fan of this music, but hearing that this all means just as much, if not more, to these artists makes it that much better.
I also got to speak with Bradley Walden of Emarosa about his involvement with Emo Nite and why he agreed to curate a playlist for the club night.
"I've known the crew who put together Emo Nite LA for awhile, and we just kind of clicked, so when I got an email asking if I'd be interested in doing a set tonight, and I realized we'd be in the area, the stars just kind of aligned for us," he explains.
I know that some people take these events very seriously and go deep when they curate their playlists, and others just pick random songs throughout the night. So I have to find out from Walden if he has a game plan or if he's just going to wing it. "I curated a whole list, he says, sounding very proud of his playlist for the evening. "I'm kicking this thing off with Drowning Pool and playing a bit of Hoobastank. Then I've got Lit on there, a little Receiving End of Sirens, Fall Out Boy, Yellowcard– I'm taking this way back."
Pugh took some time out as well to tell me how he got involved in Emo Nite. When asked he lets out a laugh and explains, "Well our drummer Kevin lives in Atlanta and he attended Emo Nite there on the first tour that they did. When they played 'Honestly,' he jumped on stage just as an HAHA moment, and they kicked him off stage because he'd cut his signature locks off so nobody recognized him. And then we sort of put it out that that happened so when they came to Nashville, where we live now, they asked us to do a set. So we did that and then we did the two-year anniversary in L.A. and then played Baltimore two weeks ago and now we're here in NYC, and I came here specifically to do this. It's just such a fun night, how could I not take part every chance I can?"
Artists and fans alike are stoked about Emo Nite L.A., and that's why it has a national tour and is slowly taking over the country. Emo kids of yesterday are still going strong, and now that almost all of us are of the legal drinking age, it's incredible to have an outlet like Emo Nite. Having a club night strictly catering to the music that shaped the lives of so many people who grew up in the '90s to early '00s is exactly what the doctor ordered. I'm sold on Emo Nite, and I hope you all will be too. I highly recommend checking it out the next time it takes a tour out of L.A. You don't want to miss out on getting your teen heart beating faster, faster 😉