Everyone's favorite creative Andrew Bird has unveiled a new single, "Manifest", an ambitious and modern take on the history of life, as told through his eyes. The song, debuted Tuesday morning, is the third preview of his twelfth studio album, My Finest Work Yet, due out later this month.
"'Manifest' traces our evolution from single celled organisms to modern man," Bird says of the song, "then takes it further, post-mortem, to when a plant or animal becomes a fossil fuel fracked from the ground and released into the atmosphere from combustion engines like ghosts. The after-life of energy."
With this third single, Bird gears up to release his twelfth studio album, My Finest Work Yet. Scheduled for release on March 22 via Loma Vista, the boldly- (but probably aptly-) titled album tackles "current day dichotomies and how to identify a moral compass amidst such divisive times." Produced by Paul Butler, the album sees Bird and his band going for that "Rudy Van Gelder-jazz-room" sound where the instruments bleed into the mics in just the right way, relying strongly on the piano for a gospel-jazz-60s soul feel. The lyrics are direct and risk-taking, cutting to the quick of what's happening in our world. It's exciting, ?, and . My Finest Work Yet will be available on all streaming platforms starting March 22, and is available for pre-order here.
In celebration of the album, Bird has also announced a short run of tour dates right around album release, which sees him doing multi-night runs in three major cities: LA, NYC, and Chicago. He will also be performing songs from the new album at this year's SXSW, where you can catch him on the Outdoor Stage at Lady Bird Lake on Saturday, March 16. Check out his full tour itinerary below, and find tickets here.
Andrew Bird 'My Finest Work Yet' Tour Dates:
March 7, 8, 21 – Los Angeles, CA // Largo
April 2, 3 – Chicago, IL // Green Mill
April 8, 9 – New York, NY // National Sawdust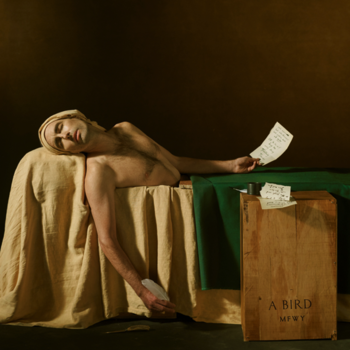 MY FINEST WORK YET TRACK LIST
1. Sisyphus
2. Bloodless
3. Olympians
4. Cracking Codes
5. Fallorun
6. Archipelago
7. Proxy War
8. Manifest
9. Don the Struggle
10. Bellevue Bridge Club