Monster Energy Welcome to Rockville is back at it again, kicking off "The World's Loudest Month" festival series at Metropolitan Park in Jacksonville, FL on April 27 – 29. As if having a massive lineup including Foo Fighters, Ozzy Osbourne and Avenged Sevenfold wasn't enough (see below!), this year's festival is set to be even bigger and better than before. In addition to increasing their 2-day festival schedule to 3 days of rock, they have added car and RV camping options in a secure lot with amenities. Festival camping is a rite of passage and we have all the tips on how to conquer the weekend like a true rock star.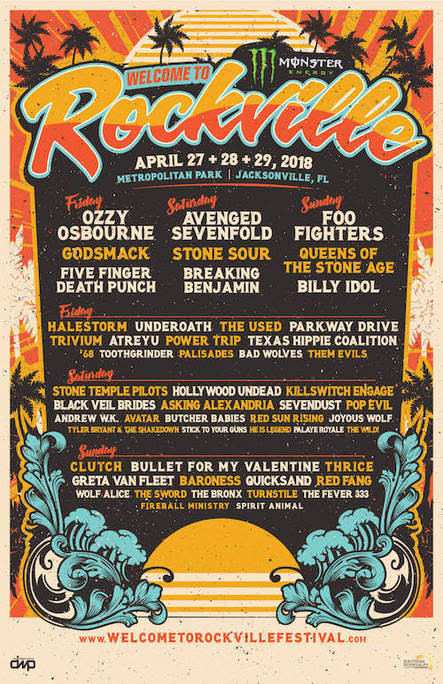 A tent for your tent
With temperatures in the high 80's and the likelihood of April showers in Jacksonville, it's important to keep your tent safe from the elements. A basic pop-up canopy to place over your tent is a must-have for keeping your digs cool and protected. Don't forget to decorate or mark your canopy with flags, ribbons etc. so that you can identify it among the hundreds of other campers. Battery operated string lights are also a very inexpensive way to help your tent stand out at night.
So fresh, so clean
It goes without saying that you are going to sweat and moshing next to thousands of other perspiring bodies will definitely leave you ripe. Thankfully Rockville has you covered with a shower trailer and indoor restrooms if you purchase one of their camping packages but if you are needing something to keep you fresh throughout the day, baby wipes are perfect for a quick "bird bath." Be sure to also keep a travel hand sanitizer keychain with you at all times but especially right after using the port-a-potty.
K.I.S.S. (Keep it simple stupid)
Simplifying your camping packing list is essential for making your weekend easy and efficient. Other than the basics (tent, sleeping bag, pillows, towels, water, food, etc.) you can save space by cutting down on the amount of items you bring. Instead of packing separate shampoo, conditioner and body wash bottles, bring an all-in-one. Another multi-purpose item that will save room in your bag is a bug repellent/sunscreen combo.  Instead of bringing a whole tube of toothpaste, make "toothpaste dots" by squeezing blobs of toothpaste onto parchment paper and letting them dry. Add them to a small ziplock bag and voila! Just pop into your mouth, chew, add water and brush. Last but not least, be sure to pack lightly on clothing items and bring close-toe shoes for the festival and flip flops for the shower.
Won't you be my neighbor
There are many advantages to making friends with your tent neighbors at the campsite. For instance, if you run out of sunscreen or put a hole in your tent and need a little duct tape, your new found pals can help you out in a pinch. Also it's very helpful to have an extra set of eyes on your campsite to protect it from would-be thieves.  Be sure to bring a deck of cards, your favorite beer, a positive attitude and your new companions will help make your festival experience a memorable one.
Keep it secret, keep it safe
Although you should probably only bring items you can afford to lose, you can keep your essential valuables safe and secure by locking them in your car, or more specifically your trunk. Do not leave anything visible on the seats of your vehicle.  If you absolutely need your items in the tent with you, you can hide small items in your pillow case or sleeping bag. Its best not to put a lock on your tent unless you want a flashing neon sign that basically says, "rob me." If you are looking for a way to keep your items secure at the festival, Rockville has on site locker rentals with unlimited cell charging so you can free up your hands and have peace of mind while rocking out.
For more information on Monster Energy Welcome To Rockville and how to buy tickets and camping packages visit their website here.