Lil Yachty has had a busy year. In May, he released the 21-track album Teenage Emotions; he spent all summer on the road, performing at festivals like Billboard Hot 100 and Breakaway; and he's released five music videos in the past three months. Most of these videos- "Dirty Mouth", "Forever Young" (ft. Diplo), "Better" (ft. Stefflon Don), and "Lady In Yellow"- are for songs found on Teenage Emotions, but the latest is a brand new track: on Thursday afternoon, the "King of the Youth" released the video for "On Me", his recently released collaboration with Young Thug.
The "On Me" video was filmed on location at the Ace Hotel in New York, and there's a lot going on here. Lil Yachty attempts one-finger push-ups, he and Young Thug rap straight to the camera in a packed elevator, and the two are each shown wearing fur coats and petting dogs. There are even performance shots with a retro, film style that could be right out of the 90s (Yachty, for reference, wasn't born until 1996). We're not quite sure it makes sense, but we are certain that (in the words of a YouTube commenter known as "hmm yes interesting"), "'tis the season of boat." You can see the "On Me" music video for yourself above.
If the "On Me" video wasn't enough "Lil Boat" for you, you're in luck: a collection of Lil Yachty GIFs, including several from the video, is now available. We've shared one of our favorites below, but there's plenty of others to choose from.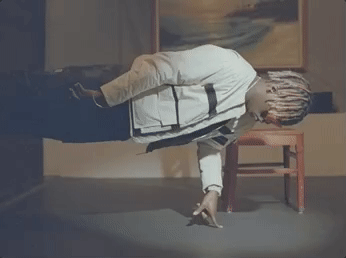 What did you think of "On Me"? Share your thoughts on the video (or your favorite Lil Yachty GIF) with Substream on Twitter.