In anticipation of his debut full-length album Toward A Never Ending New Beginning, indie-pop-folk artist Yoke Lore embarked on the Holy Havoc Tour last month. With support from girlhouse, the tour recently made its way to The Fonda Theatre in Los Angeles on Friday, September 15, just a week before the album's release.
girlhouse took to the stage right at 9pm, immediately welcoming the crowd to their world with storytelling lyrics that made you feel connected to the music – no matter how familiar you actually were walking in. Introducing "pretty girl in la", from 2021's the girlhouse ep, vocalist/guitarist Lauren Luiz shared that she'd had a "10 year on-and-off relationship with living in LA". It wasn't the first time Luiz had been to the Fonda: midway through their set, she told the crowd about having seen Bleachers at the venue, and how it was a dream come true to now be on that very same stage. With a slow intro that saw instrumentals gracefully build around the vocals, girlhouse's closing song "concussion" was an easy highlight.
A Yoke Lore show is not like most other shows. First, rather than typical between-songs-banter, he read free-flowing "speeches", if you will, introducing select songs. The first of these came early in the set, a piece of poetic prose about the beauty of music and what "Yoke Lore" means. This first paper was crumpled up and quickly tossed in the crowd, where a lucky fan grabbed it. Second, a Yoke Lore show invites all in attendance to join in an evening of transcendence and free-spirited fun.
While most in the crowd were probably too young to remember Savage Garden or Cyndi Lauper, everyone seemed to enjoy Yoke Lore's covers of "Truly Madly Deeply" and "Time After Time." "Truly Madly Deeply" was followed by "Hallucinate" – a cut from Toward A Never Ending New Beginning, "Hallucinate" was driven by its rhythm section and a clear highlight of the set. With its ethereal feel and lyrics spent pondering on insecurities, "Enough" was another standout. "Shake" was preceded by a ponderance on the heavy moments of existence that you just have to shake – and there's no better place to shake it all off than a Yoke Lore show.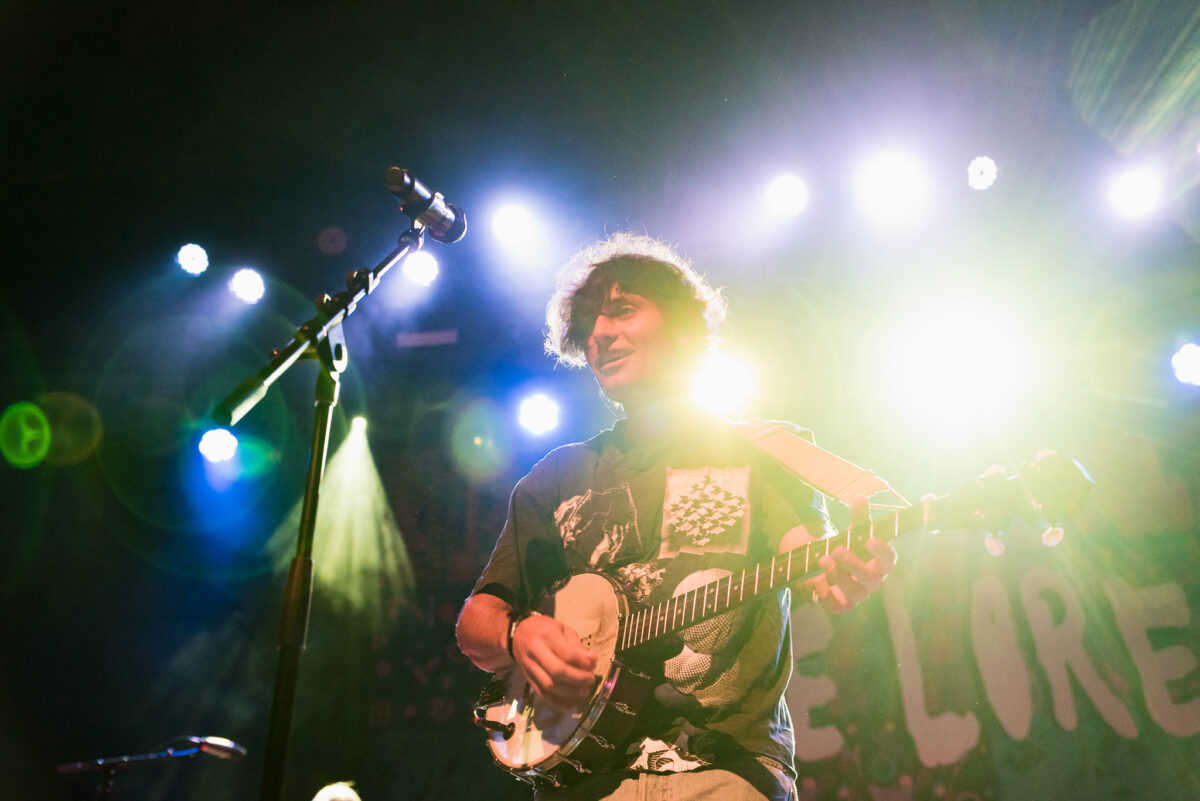 Listen to Toward A Never Ending New Beginning here. Head to Yoke Lore's website for a full list of upcoming shows, including headlining shows in Australia and Europe, and a run of dates supporting The Head and the Heart in the US. Follow Yoke Lore on Instagram, TikTok, Twitter, and Facebook.