The Frst is debuting the music video for "Murderabilia," a collaboration with Jesse Hughesand Jennie Vee of Eagles of Death Metal. The track was mixed & produced by Zack Odom and Kenneth Mount (All Time Low, Mayday Parade, Set it Off, Cartel) and serves as the follow-up to The Frst's last collab, the single "Bruce Lee," with Kellin Quinn and Sleeping With Sirens, which hit #29 on the iTunes chart and became Kellin's #6th most popular song on Spotify.
The Frst mastermind Mikei Gray says, "I found out about the concept of Murderabilia from listening to the band, Acid Bath. The cover of one of their records is a painting by John Wayne Gacy. That led me down a rabbit hole into discovering that Murderabilia was when items are taken from murders or crime scenes and sold. I thought that was kind of sick, and it motivated me to write the song in a really rapid fashion. I felt like more people needed to know about this…It was such an honor to work with Jennie and Jesse. The EODM are one of my favorite bands, it's still such a trip."
Of the track, Jennie Vee (Eagles of Death Metal)says: "I left for a few weeks to go to the UK for a tour but when I got back we had time to go into the studio to do the vocals. I recorded with my friend Josiah at The Cave studio. I had to work with him on his schedule so Jesse (Eagles of Death Metal) and I could go in on the same day. Josiah did my vocals for my "Out For Blood" single and mixed them for the "Wildflower" cover I did with Jesse. He's such a great engineer- he has worked with great artists like Deap Vally, Jesus and Mary Chain, Smashing Pumpkins etc. Our riffing at the beginning – was 100% improvised! Jesse and I were talking about how awesome it was!!! Thank you for inviting me to be a part of the song!"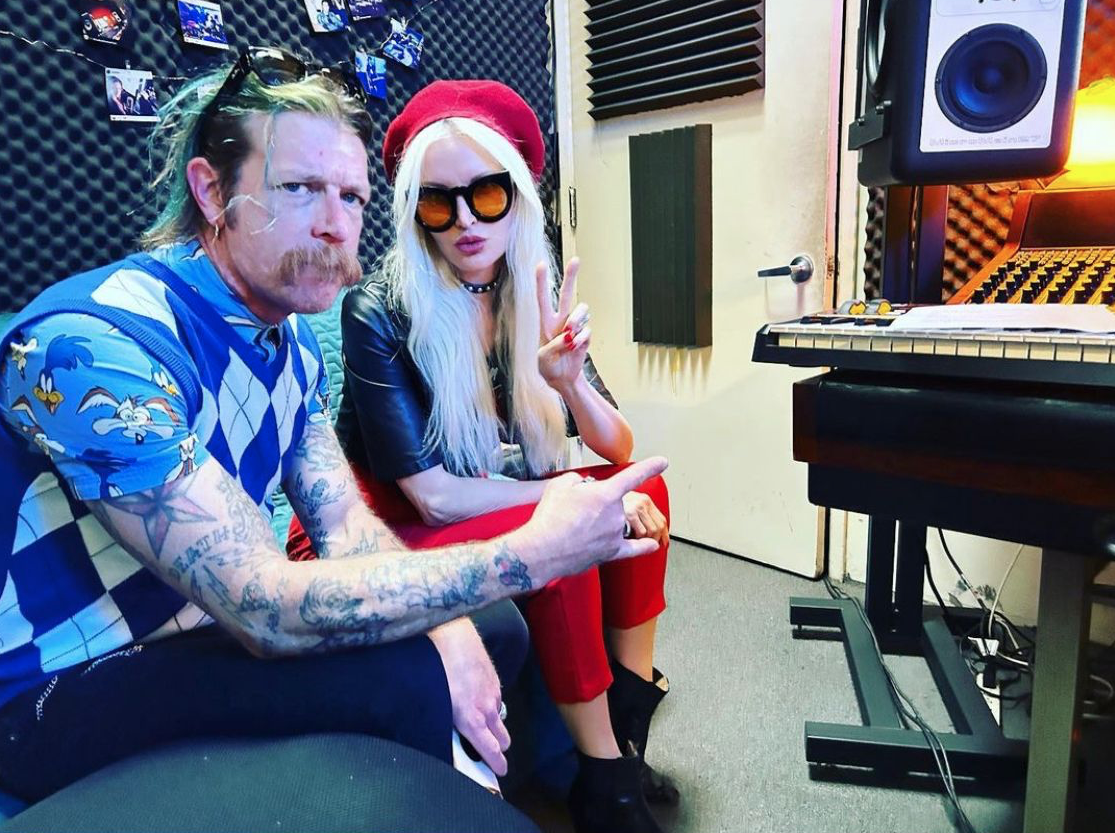 Eagles of Death Metal
Jessie Hughes of Eagles of Death Metal recalls it as, "one of the sweetest recording sessions…"
The Frst is an American rock musical project founded by singer and guitarist Mikei Gray in Nashville, Tennessee. Before forming The Frst, Gray had worked as a touring musician for artists such as Sublime with Rome, Village People, Florida Georgia Line, and Portugal. The Man, playing in venues such as the Vans Warped Tour and the Grand Ole Opry. Gray founded The Frst in 2017, changing the spelling of the project's name to reflect its collaborative nature and changing lineup.
FOLLOW The Frst
www.facebook.com/thefrstofficial