Updates at bottom of the story—keep scrolling.
Breaking news out of south Texas: According to radio station KFMX and corroborated by CBS4 reporter Lashay Wesley, Epitaph Records hardcore band the Ghost Inside was involved in a horrific bus accident while traveling from Lubbock, Texas, where they performed on November 18 to Phoenix, Arizona, where they were slated to perform on November 20. According to KVIA, the crash took place at 9:16 a.m. MT. Wesley is currently on the scene of the accident, where she is reporting live as it develops:
All lanes are closed on US 62/180 near checkpoint due to deadly crash.

— Lashay Wesley (@LashayKATU) November 19, 2015
Texas State Troopers say 2 dead are believed to be driver of private tour bus and driver of a flat bead tractor trailer.

— Lashay Wesley (@LashayKATU) November 19, 2015
Ten people with various injuries were taken to hospitals in Hudspeth County area and El Paso.

— Lashay Wesley (@LashayKATU) November 19, 2015
The accident is a few miles east of the US Border Patrol checkpoint on US 62/180. This is as close as we can get. pic.twitter.com/unYgUTaS4Q

— Lashay Wesley (@LashayKATU) November 19, 2015
Jay Ivie, another trucker who was on the scene, told KFMX that it was the worst accident he had ever seen. There is no word on the condition of the Ghost Inside's touring party, only that there were two fatalities on the scene (believed to be the drivers of both vehicles) and 10 more people being transported to a local medical facility. We will update this story as more information becomes known.
3:20 p.m. ET UPDATE: David Summers, the tour manager for the Wonder Years, has gotten a hold of the Ghost Inside and can verify that all members of their band and crew are alive, though no details were offered as to their conditions.
@LashayKFOX_CBS @theghostinside ALL BAND AND CREW ACCOUNTED FOR AND ALIVE

— David Summers (@DSummersPhoto) November 19, 2015
3:23 p.m. ET UPDATE: Joel Birch, frontman for the Amity Affliction, says he has spoken with Ghost Inside bassist Jim Riley inside his ambulance who confirms all members of the Ghost Inside and their crew are alive.
TGI + crew are alive. I just spoke to @SpartaDTD from his ambulance. This is fucked up.

— Joel Birch (@JoelDTD) November 19, 2015
3:54 p.m. ET UPDATE: According to CBS4's Lashay Wesley, multiple survivors were transported to a local hospital via medical helicopter, an indicator of more serious injuries. It is still unknown at this time the condition of each member of the Ghost Inside and their crew, only that they are all alive at this time.
Here's a closer look at the accident. Multiple people we transported via medical helicopter. pic.twitter.com/CVAmX4vz8d

— Lashay Wesley (@LashayKATU) November 19, 2015
5:48 p.m. ET UPDATE: A new photo of the accident scene has come out via local news affiliate KFOX showing the extent of the damage sustained to the tour bus. Also visible is a medical helicopter in the background. The semi truck appears to have been destroyed on contact, based on the wreckage.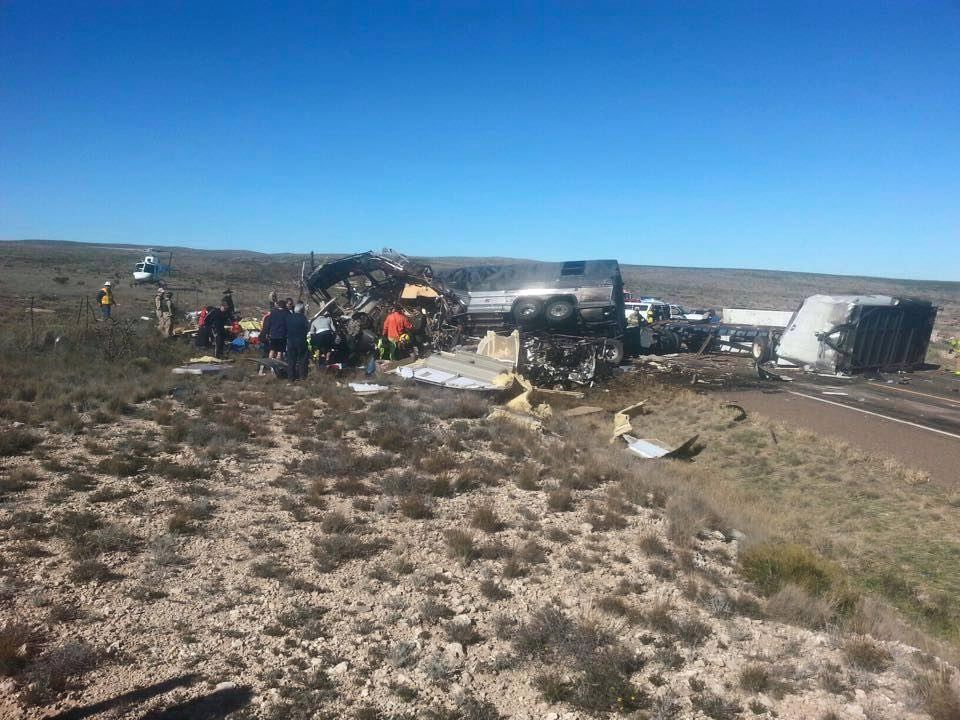 8:24 p.m. ET UPDATE: The Ghost Inside has issued a statement about today's incident. It reads in its entirety:
"Thanks to everyone who reached out with concern today. The Ghost Inside was involved in a serious bus accident outside El Paso, TX this morning. All 5 band members + all members of the crew are alive and currently being treated for their injuries. Please keep them in your thoughts as well as their bus driver and those in the other vehicle who did not make it. Unfortunately, all US shows on the Locals Only Tour are cancelled. Refunds available at point of purchase.  We will update you more when we can."